Climbing Mt. Everest
The following videos, films, and photographs are of our climb up Mt. Everest.
Starting at Kathmandu, Nepal's capital, an ancient city with temples, splendid architecture. It was the caravan route between Tibet and India for thousands of years.
Lukla, a small Sherpa village perched at about 9,000 ft. on the side of the Himalayan Mountains and the gateway to Khumbu Region, and the starting point for expeditions on Mt. Everest.
Namche Bazaar at 11,286 ft. is a large village in the Khumbu Region of Nepal. Namche Bazaar has shops and lodges. It is a beautiful spot going into high Himalayas.
Thyangboche Sacred Buddhist Monastery at 12,796 ft. surrounded by magnificent peaks: Mt. Everest, Nuptse, Chotse, and Ama Dablam. The scenery is spectacular. From Thyangboche to Base Camp with a few stops along the way.
Everest Base Camp, 17,500 ft. Climbers acclimate and get ready for ascent starting with the Khumbu Icefall. Base Camp is on the rocky slopes of Khumbu Icefall, 19,500 ft. is in constant motion, enormous seracs and endless crevasses. It is an area very dangerous for climbers and many have lost their lives in this area.
Camp I is finally reached after crossing Khumbu Icefall and is at 19,500 ft.
Camp II is reached at 21,000 ft.
Pitched on the steep and exposed Lhotse Face, Camp III is not comfortable at 23,700 ft.
Photos with our Sherpa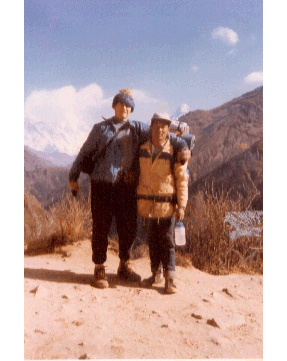 Ang Phurba: This little man was our expedition leader who guided us up Mt. Everest and back safely. He was a renowned climber. He led, or has been on, many famous Everest expeditions, and has summited more than once. Ang Phurba was an incredible man; very brave, spiritual, and strong. We shall never forget him.
Sherpas are an ethnic group from the most mountainous regions of Nepal. One of the most famous Sherpa was Tenzing Norgay, the first to summit Mt. Everest with Sir Edmund Hillary in 1953.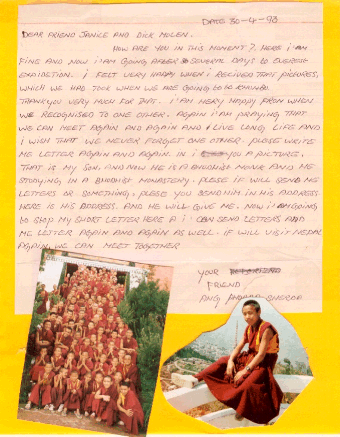 A letter from our Sherpa, Ang Phurpa, and a photo of his son who is studying to be a Buddhist monk in Kathmandu.
Prayer Flag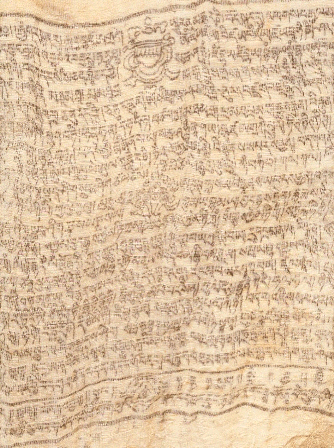 This prayer flag was one of many we came across on our way up Mt. Everest. Historically Nomadic communities of Tibet hoisted prayer flags to bring fortune, prosperity, health, etc.
Now, in Nepal, it has more of a religious significance. Designs and prayers are printed in black ink on cloth panels of blue, white, red, green, and yellow which symbolize the sky, clouds, fire, wind, and earth.
Writings and wishes inscribed upon the flag are increasingly associated with spirit as opposed to material things.
Genet Letter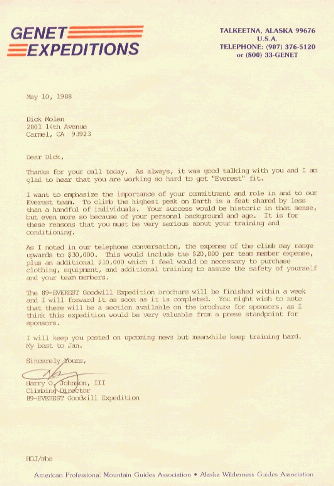 In 1988 I was one of ten climbers chosen for this Everest expedition. Sponsors failed to live up to their commitment and the expedition was cancelled.
Kathmandu
Lukla
Namche Bazaar
Thyangboche
Everest base Camp 17,500 ft.
Khumbu 19,500 ft.
Icefall and beyond up to Camp III 23,700 ft.